MetEOC-4 month 27 progress meeting: a warm welcome from PTB over two cold days in Berlin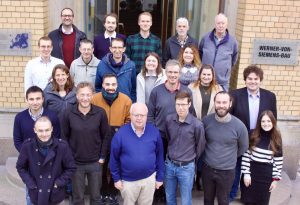 Three quarters through EMPIR MetEOC-4, the first in-person meeting during the project on 15 & 16 December at PTB, Berlin, proved a valuable and timely opportunity for the whole project team to share progress face-to-face. As well as presenting updates on developing metrological tools and likely uptake, the team also got the chance to view, up close, impressive new hardware in PTB's historic basement labs.
This fourth in the series of Metrology for Earth Observation and Climate (MetEOC) EMPIR projects — that supports climate observation communities by improving understanding of the drivers of climate change — was hosted at the birthplace of quantised thermal radiation physics. Indeed, PTB showed off hardware developed in the project, including a new type of lightweight Hemispherical Blackbody infrared reference. Updates on various other tools and hardware in development were shared with the entire team.
The meeting was opened and rounded-up by project coordinator Nigel Fox, highlighting the recently announced TRUTHS mission funding go-ahead from European Space Agency. Directly and indirectly, TRUTHS benefited, and looks set to continue to benefit, from contributions of the MetEOC series of projects. Looking ahead to the twelfth consecutive year of the MetEOC series (1-4), Nigel encouraged the team to maintain the course for producing metrology that will benefit for the Earth Observation and Climate community.